Almost any man can become a father, but it takes a special man to be a Dad.
I learned this firsthand.
Before I started dating John–a middle schoolteacher and coach–I told him, "I have a daughter. Her name is Lindsey. She's fourteen-months-old."
"I love kids," John said. Then before one second ticked by, he added, "I can't wait to meet her."
Once the two were in the same room, Lindsey crawled on John's lap and grabbed his nose. John snorted. Lindsey giggled.  After that, they were like peas and carrots. John carried her around the house, between the house and the car, at the grocery story, around the mall. Not only did he haul Lindsey, he hauled her toys, her playpen, her clothes.
John and I married. Lindsey's biological father drifted out of the picture (I'm guilty of not encouraging a relationship), but he rarely came around, then disappeared in the flesh for many years. Lindsey called John, "Daddy." And my new husband grinned. He always introduced Lindsey as, "my daughter," never using "step" to describe their kinship.
Then one day, my dad called.
"Listen to this song," Dad said, his voice trembling with emotion.  He must have moved the receiver near the radio because I heard Brad Paisley singing:
When a single mom goes out on a date with somebody new
It always winds up feeling more like a job interview
My momma used to wonder if she'd ever meet someone
Who wouldn't find out about me and then turn around and run…

And then all of a sudden
Oh, it seemed so strange to me
How we went from something's missing
To a family
Lookin' back all I can say
About all the things he did for me
Is I hope I'm at least half the dad
That he didn't have to be…
When the song finished, Dad said, "This song reminds me of John. I'm so glad he is in your and Lindsey's life."
I'd heard the song before and silently agreed, wiping a tear from my cheek. John had stepped up to the parental plate, taking on responsibilities he didn't have to. That night I gave my husband an extra hug. Just because.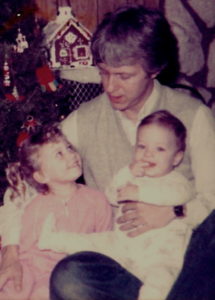 Our family grew. We had a son. Michael. John never complained about holding a baby, changing diapers (even the dirty ones), burping a kid, wiping up spit-up, or scooping a toddler's turd out of the tub. But John's mouth would turn into an exaggerated frown as he washed his hands and said, "It's better if you poop in the toilet."  Either Michael and Lindsey would giggle and say, "Oh, Daddy. You're so funny!"
We carved pumpkins on Halloween. John scrunched his face so that it resembled the carved squash. The kids giggled more. In the spring, summer, and fall, we rode bikes through town–a child's seat on the rear of each ten-speed, laughter floating behind us. When John played on a City League softball or basketball teams, he took the pre-schoolers with him so I could have some free time.
John attached training wheels to the kid's bikes, then took them off when they learned to pedal on their own.  He coached their T-ball teams, taught them how to throw and catch balls, to shoot hoops in our driveway.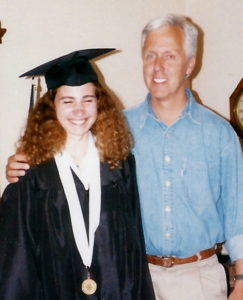 John didn't run away when Lindsey turned six and we learned that she would have special challenges. Instead, he helped with her homework (even though he was a schoolteacher, most evenings morphed into painful ordeals). He attended parent/teacher conferences, award ceremonies, concerts, graduations–anything the kids participated in, John was there to encourage and congratulate. And every night he came home to eat dinner with his family.
Last fall, Lindsey married her long-time boyfriend in our backyard. (To read about Lindsey and Nick's love story, click here.) She asked John to give her away and now says her favorite memory of her wedding day was, "Holding onto my Dad's arm while I walked down the aisle toward my hunka, hunka burning love."
Both Michael and Lindsey are now adults, living separate, independent lives (Lindsey still needs more support than her younger brother).
Michael remembers his dad as humorous, the parent he'd ask to slip him a bit of cash (because John would always hand him a twenty, along with a warning, "Don't tell Mom") or to have friends over (because John always said yes). And when he was young, Michael remembers John as the parent he'd call out to in the middle of the night, "Because Dad would always wake up and come running."
Lindsey says, "I consider John to be my bi-logical dad because he was always there for me," she paused, stumbling on her pronunciation of biological. "He's the one who raised me, he's the best dad ever, and he means the world to me."
John was one of those dad's that "Didn't have to be." At least for Lindsey. Thanks John, you're a good man. Happy Father's Day. We all love you.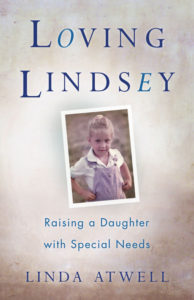 My first book was released in September  2017 by She Writes Press. If you are interested in learning more about Loving Lindsey: Raising a Daughter with Special Needs, please click here.