The night Lindsey made her way into the world, I'd been determined not to deliver my baby that day.
During my pregnancy, whenever I was around my father, I promised to hold my legs together rather than have my baby on May 10th, my dad's birthday. Every time I made this announcement, Dad wrapped his arms around his oldest daughter and hugged tight. "We'll see," he'd say. "We'll see." I'd resist his embrace, struggling to break free.  I loved my dad, but at twenty-two, we didn't see eye to eye. He often irritated me.
Dad was a Taurus. I'm an Aries. To me, Dad's actions screamed: Bull, one pawing at the ground stirring up dust–ready to run head first toward a snapping red cape. And me? I perfected stubbornness–like a wild ram.  I didn't want to duplicate an obstinate relationship with my child. But at 9:09 p.m. on a Saturday evening, despite my promised resistance, I became a mother, and my dad? He became a first-time grandfather.
"She's the best birthday gift ever," Dad said, bending a flannelled arm to support Lindsey's seven pound, eight-ounce frame. Back then Dad wore black, Buddy Holly-looking glasses. Behind the frames, his blueberry eyes twinkled, then turned misty as he held his granddaughter for the first time.
After Lindsey's birth, I practically forgot May 10th was Dad's birthday too. I became engrossed in throwing Lindsey spectacular themed parties: a trip to Ramblin' Rod with five other friends, princess dress-up parties, tea parties, and a girlie get-together at Farrell's ice cream parlor. One year we hustled a gaggle of kids into Chuck E. Cheese because Lindsey had begged, "All my friends go there on their birthdays!"
Lindsey was a freshman at Silverton High when we rented a limousine. The chauffeur picked up my daughter and three friends. He poured sparkling cider into fluted crystal glasses and the gals guzzled instead of sipped. "It tickles my nose," Lindsey said, giggling. The other girls nodded. Gloria Estefan sang Everlasting Love on the way to the Home Place and the girls rocked out to the beat. We ordered Hula-Lula, Cowgirl, and Cowboy pizzas, then all the slices disappeared in record time. Afterwards the driver cruised through town with four girls hanging out the open sunroof giggling and screaming like only teenagers can do.
But Lindsey never forgot it was her grandpa's birthday, too. She looked forward to their celebrations.
After this first grandchild came into his life, Dad never seemed to mind taking a backseat in their combination family birthday festivities. The cake often arrived with animated figurines–Sesame Street, Cabbage Patch Kids, Barbie, My Little Pony. Happy Birthday Lindsey and Dad (Dad added almost like an afterthought) was written in matching pink icing. He'd give Lindsey one of his signature bear hugs, tell her happy birthday. Five or six huffs later, Lindsey would blow out all her candles. Someone would add a few token candles for Dad to make a wish and blow–but the second birthday song never sounded as enthusiastic as the one dedicated to Lindsey.
When Dad turned sixty, Lindsey turned fifteen. My siblings and I inflated sixty black helium balloons. My brother-in-law wrote a song: Sixty Candles. He strummed a guitar as he sang the catchy tune. Lindsey danced, chased balloons, admitting she thought all this extra fuss was for her special day. And Dad let her think that way.
For twenty-six years Lindsey and Dad shared their birthdays, celebrating with a special bond–in a way that only someone who shared this type of connection might understand.
Then Dad died without warning at the age of seventy-one. Everyone was shocked.
"Who will I share my birthday with?" Lindsey asked when she heard of grandpa's passing. "It won't ever be the same," she added, tears drowning her bright, blueberry eyes–the same shade as her grandfather's.
Recently I asked Lindsey what she remembered about Grandpa? What she missed about sharing their birthdays. Her eyes darted right, then left.
"My birthday's not the same anymore," she said, looking down at the ground. "I miss Grandpa." Then her hands bolted into the air and her fingers moved rapidly, like she was signing her answer. "He taught me to swim. We both liked ice cream." Lindsey said, pausing, her face animated with memory. She gulped. "And he gave the best hugs ever!"
Lindsey turned thirty-three today, May 10th. Dad would have turned 78. Lindsey may no longer celebrate her birthday with Grandpa by her side, but like the rest of us, we think about him everyday.
"I'll always miss my Grandpa," she says. "But he's in a better place. Grandpa still shares my birthday. Just not here." Sometimes my daughter amazes me. Dad may not be sitting in the same room, but I'm sure heaven reverberates with his exuberant shout out: "Happy Birthday, Lindsey!"
And happy birthday Dad, too.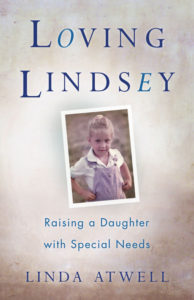 My first book, Loving Lindsey: Raising a Daughter with Special Needs will be out September 26, 2017. If you would like to learn more, click here.