This week marks the one-year anniversary of the loss of our beloved pet. After almost fifteen years in our home, we still expect to hear Arthur's happy barks and see his energetic tail (and all over body) wags whenever we walk through the back door. In honor of Art, I am resharing the story of his adoption.
---
I grew up with dogs named Tag and Fetch and Duchess. My husband grew up with cats named Smokey, HarryArm, and Stingray-Varoom-Mitch-Thorpe. When we married, I wanted a dog; he wanted a cat.
We added a cat to our family. But no dog.
Every year or so, I'd say, "It seems like a great time to get a dog."
John said, "We don't need a dog. I don't want a dog."
Our lives busied. We had two children, built careers, and bought an old house in the country that needed fixing up. The rural setting was perfect for cats since they could catch mice and fend for themselves. We'd replace a runaway cat–or one that experienced an untimely death racing across the county road–with a new kitten. I liked the kittens; they were soft and cute and cuddly.  But when the kittens morphed into cats, they wouldn't snuggle like the dogs of my childhood memories. The cats turned distant, sometimes snobbish, only coming around when they wanted, not when I wanted. I became frustrated with the felines, and asked again, "Isn't it time we got a dog?"
"We don't need a dog. I don't want a dog," John said.
Years passed. Still, we had no dog. I began to agree with John when he'd point out, "We travel. Who'd take care of the dog then? We'd have to kennel it." Then he badgered me with questions. Who'll clean up the messes? Schedule appointments for the vet? For grooming? It would be me, of course, since I was the spouse who sought a dog. Our schedules were full, often overflowing, and I began to wonder if I really wanted another responsibility.
Yet one glorious day, after fifteen years of marriage, I overheard John say to a friend, "If we ever get a dog, I'd want one like yours." Shih Tzu. I tucked that tidbit into the hallows of my mind. The bells in the local church chimed, the birds sang, and I danced a jig! "We're going to get a puppy! We're going to get a puppy!"
The breed of dog wasn't important to me. I was used to mutts. My parents never splurged on a purebred dog. We took in ones that looked mangy, lost, hungry. Some were dumped off at the end of our road: Beagle mixes, collie mixes, and some sort of terrier mix. We loved them till they ran off or died of old age. My rabid new research showed Shih Tzu's to be good indoor dogs and great with kids. I couldn't wait for a canine to lounge on the sofa, his lazy head hanging over the edge.
Most wives–whether they wish to admit it or not–know how to work their husbands. John's a kind, fun-loving, generous man; he rarely puts a firm foot down. Our goals have differed on only a few, limited occasions. In the pursuit of a dog, I felt justified using perfected–get what I want–techniques.
On a cloudy, drizzly, November Saturday, Lindsey and I strolled into a Salem pet store, not expecting to find a dog in the first place we looked. Caged puppies napped or sat or played in the large display window. There were big ones, little ones, cute ones, even homely ones. The last puppy, its (I couldn't see the gender) topknot was tied with a red bow. A petite ball of black and white fluff pranced toward me with alert ebony eyes, tiny paws, and a perfectly curled tail. He (I spied his gender) stood up and turned his head to the right, then the left. When he shook his head, a chain-reaction of wiggles charged through the rest of his pintsize body. His mouth opened wide, and if anyone asked, I'd have sworn he was smiling. Tucking his head, he somersaulted, landing like a rag doll, legs splayed. I clapped my hands. My heart was immediately twisted around his metronome-wagging tail. "Adopt me! Adopt me!" it seemed to beg.
"Can I hold him?" I asked, cupping my hands. He felt light, like one of the kid's stuffed animals. He licked my fingers and chewed my thumb. Then licked Lindsey's too. She grinned. I stroked his soft puppy coat, smelled his little puppy breath. But the moment I looked into his ebony puppy eyes, I found the ingredient I was missing in cats: Love.
"Hey honey," I gushed, when I called home. "Guess what?" I hoped each syrupy word oozed through the phone line, making him weak in the knees. At the very least, I hoped my upbeat mood would be contagious.
"The pet store has a Shih Tzu puppy for sale. The kind our friends have. Remember? You said you liked theirs." I held my breath. Silence.
"We don't need a dog. I don't want a dog," John finally said. Click. He hung up the phone.
This may not be so easy. I waited ten minutes and called him back.
"Heeeey honeeey," I crooned in a–you just might get lucky later–tone. "Have you thought about the dog anymore?" I held the ball of fluff higher and looked into his eyes, knowing I'd never be able to leave this little guy at the pet store. "Do you want to get a dog yet?" I asked, my tone shifting from sexy to desperate.
"I already told you. I don't want a dog." John's voice sounded stubborn, firm. Then he added, "If you get this dog, it'll be your dog. You'll be solely responsible for it." Click.
 My husband's words swirled around in my head. He really wants this dog, too. Grinning, I counted down ten minutes and called him back.
"Heeeey honeeeey. Have you thought about it anymore? Do you want to get the dog yet?"
"Linda, if you want to get the damn dog, get it." Click.
Yippee! A dog. Our dog. We adopted the small, fluffy pup, with the little puppy breath and named him Arthur-Evert-Gizmo, calling him Art for short.
And my husband, well … when Arthur first entered our home, John eyed him suspiciously, remaining distant, reserved. For ten whole minutes. Then he picked up Arthur, stroked his fur, and held him during the entire Huskies football game. Starting that day, John and Art were like "peas and carrots."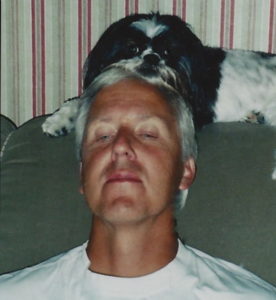 At night, John corrected junior high student's history papers while Arthur sat on the highest spot of the sofa, resting his head on the top of John's. When John's head turned, Arthur's turned. He trotted after my husband–following him from room to room–barely keeping pace on his short, puppy legs. John took Arthur for walks and properly disposed of any messes. His actions never resembled a man whose mantra was, "We don't need a dog. I don't want a dog."
Fourteen years later, John claims no recollection of any resistance to the idea of a dog. And Arthur's the king of our castle, a loyal lap friend, and a pretentious watchdog (he barks impressively when the doorbell rings).
I love my husband. I love our dog. Life is good.
---
Arthur was often by Lindsey's side. He was a soothing presence for all of us. Lindsey and I both miss petting him–especially on those rough days in life.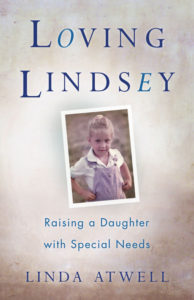 My first book, Loving Lindsey: Raising a Daughter with Special Needs will be out September 26, 2017. If you would like to learn more, click here.
---
This month Out One Ear is showcasing PAWS, a non-profit network of volunteers who provide shelter, medical care and affection while finding loving homes for homeless and abused dogs and cats. Lindsey adopted two cats over three years ago: Cuddles and Sally. Not only does she love caring for them, Cuddles and Sally are great companions for Lindsey and her new husband, Nick. Pets can make wonderful companions for typical families as well as someone with special needs. If you are looking to adopt, please check out PAWS (or your local humane society) for assistance in picking out the perfect pet for your situation.