I was in high school when I came through the back door stomping and shaking my fists. "That guy really pissed me off!" I told my mother.
Her face twisted into a frown. "That isn't very ladylike," she said.
"Huh?" I didn't understand. Everybody used that word.
"Do you know what it means?" she asked in her sweet, gentle way.
I'd never thought about, didn't really want to think about it. After Mom brought "piss" to my attention though, every time I tried to utter the word, I thought about its meaning: to urinate on or into something; an offensive term for an act or instance of urinating; vulgar term for urinating. I kept thinking about the sight and smell of a man peeing on an alley wall. It was no longer fun to use that slur.
 Fourth grade was the first time my daughter was called a retard. Lindsey hated recess. "No one plays with me," she said. Every time I heard she played alone, my heart broke. One day the principal called to advise me of an incident at morning recess.
"Hey shaky hands," two girls taunted my daughter. "What a retard. You're retarded." Then they spit in her direction. A wad of saliva landed on her arm.
But the principal wasn't calling just to tell me about the girls. I imagined Lindsey balling her fists, too angry to speak. Maybe she yelled back. But what the principal really wanted to share was the part about a popular classmate and athlete coming to her aid.
"Hey, Linds," Scott von Weller said as he sauntered by. "Are these girls bothering you?"
Lindsey didn't lower her fists or take her eyes off the girls.
"Leave her alone," Scott told the girls before walking away.
After that day, I watched one popular student talk to my daughter in the halls, high fiving as they passed by. Then another, and another. By speaking up, Scott made my daughter's life a little bit more pleasant. I'm not saying Lindsey was never teased again, but it wasn't as cool to harass her. When she graduated from high school, Lindsey had trouble finding classmates to walk with. Scott and another popular student offered to escort Lindsey down the aisle. My heart soared.
Retard and retarded are used all the time in our society in the most derogatory ways. Whether or not this word is directed at a mentally challenged or mentally healthy person, everyone seems to use it. But does that make it right?
My mother would have suggested I look the offensive term up in the dictionary to see what it means. So I'm trying my mother's tactic by giving you the definition here:
Retard/retarded – Webster's Dictionary describes retard/retarded as a person of slow or limited in intellectual or emotional development or academic progress; often offensive : a retarded person; also : a person held to resemble a retarded person in behavior; sub-average intellectual ability equivalent to or less than an IQ of 70 that is accompanied by significant deficits in abilities (as in communication or self-care) necessary for independent daily functioning, is present from birth or infancy, and is manifested especially by delayed or abnormal development, by learning difficulties, and by problems in social adjustment.
I've never developed the habit of using this term in an insulting manner. Maybe because I learned early in my life that it can be hurtful. My cousin had mental and physical challenges and I saw how the word hurt him. Now it hurts my daughter.
To me–the word, or variations of the word–(even though it is commonly used as slang in our society) is no different than using the "n" word to describe African Americans. It has become so common in our society, people no longer worry about how it will be received. They think the slur is funny…or maybe they just don't think.
When this word is directed toward the mentally challenged, I often wonder if it is done out of ignorance. But in this day and age, there are so many other politically correct terms that could be used instead: special needs, intellectually disabled, mentally challenged, developmentally disabled, or intellectually challenged. Or maybe you have a favorite one of your own? If so, please share.
I don't know if I'm ultra sensitive to this term since my daughter is mentally challenged. But to me, retard sounds like fingernails on a chalkboard. It's offensive and I cringe when I hear an adult call their friend this name; or when a kid yells it at another child; or (and especially) when a parent tells their mentally healthy child "You're retarded." Be glad they aren't. Be very glad.
So I'd like to know, am I hyper sensitive? Is this not as much of a slur as I think it is? Is the word offensive to you? If you thought about the meaning would you still use the word?
And do you know of someone who was brave enough to stick up for someone less fortunate? Or to help someone who was being picked on? I'm eager to hear your views. Please share.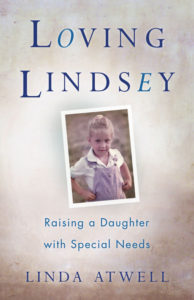 My first book, Loving Lindsey: Raising a Daughter with Special Needs will be out September 26, 2017. If you would like to learn more, click here.
---
Every month, one or two organizations that do great things for people with special needs will be featured here. If you would like to support the developmentally disabled, please check these out.
Albertina Kerr helps children, adults and families in Oregon with mental health challenges and developmental disabilities, empowering them to lead fuller, self-determined lives. They were recently named Oregon's 2nd most admired non-profit organization. If you would like to learn more about their services, volunteering, or donating, please click on above link.
Special Olympics services 4 million athletes worldwide with developmental disabilities. If you would like to learn more about how you might support this organization, please click on the link above.