"I've lost a good friend, a wonderful friend," Lindsey (35) said upon hearing that longtime, Silverton resident Norma Jean had died. At 90, she still worked at her popular, local florist shop.
The first time my husband-to-be brought me to this little town, the building that initially caught my eye was a bright red structure. SILVERTON FLOWER SHOP was painted in bold white letters at the top. The building was old and stuffed with collectibles and plants and all sorts of interesting and inspiring things.
It was a place I could wander around as I inhaled the fragrance of roses and carnations mixed with other incredible aromas, searching for the perfect gift. It was the place my husband would purchase flowers for me, and on occasion, I for him. It was a place where you felt welcome, whether you'd been born in Silverton or were new to the community. It was the place owned by Norma Jean Branstetter.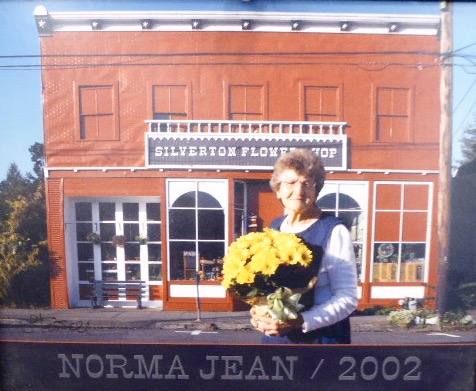 When Lindsey was thirteen, Silverton Flower Shop sponsored a Challenger's softball team. Kids with varying disabilities were encouraged to participate, so Lindsey joined, playing on the team for three summers.
Norma Jean was there to hand out T-shirts and hats with her company logo. She attended many of the games, encouraging these special kids as they tried to throw balls, catch balls, or run around the bases—sometimes in the wrong direction. Lindsey didn't really know or recognize Norma Jean back then, so she probably didn't hear her cheering along the sidelines. But somehow Norma Jean noticed my daughter.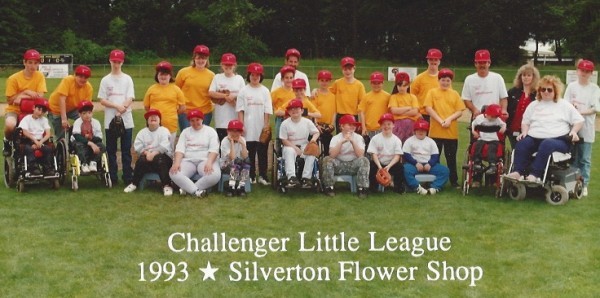 As Lindsey grew, my daughter walked around our town on a regular basis. Silverton Flower Shop was on her route to and from high school, and she often stopped in to say hi to Norma Jean and chat for a while.
"Norma Jean gives the best hugs," Lindsey always told me. I'm sure this petite little business owner had a lot more things to do than chat with my daughter. But it didn't seem to matter. Whether Norma Jean had one order, or a hundred, she always made time for Lindsey.
As Lindsey and I talked about the loss of this incredible woman, my daughter told me, "She always made me feel special." Indirectly, Norma Jean made me feel special too. I remember a Mother's Day when Lindsey asked me what kind of flowers were my favorites. A few days later, my girl came home clutching a bouquet of red, yellow, and purple tulips.
"These only cost me $3.00," Lindsey said. Her hands tremored as she handed me the flowers. "Norma Jean gave me a real bargain." The tulips were worth far more than three bucks. But Lindsey probably didn't have any more money at the time, so Norma Jean made it work.
Years passed. When Lindsey had a 30th birthday party, Norma Jean was 85. The party was held on the Saturday before Mother's Day—the biggest flower delivery day of the year. Apparently Norma Jean started working on her flower orders early that morning, and although she was most likely exhausted from the craziness of her day, she showed up on our doorstep as the event was winding down.
"I wouldn't miss your party for the world," Norma Jean told Lindsey as we handed her a slice of birthday cake. We knew she meant every single word. That was just the way Norma Jean was.
A few years after this milestone birthday, Lindsey had a marriage proposal. It was a happy, happy time in our lives, and of course, we immediately went to see Norma Jean. She had to be the one who would prepare the flowers for our girl. No one could do a better job. After we placed the order, we asked for the damages.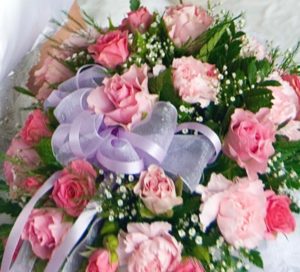 "Nothing," Norma Jean said. "This is my gift to Lindsey."
There were times in our lives when Norma Jean's generosity had been greatly appreciated (but never expected). The first years of our marriage, John and I rarely had money to splurge on extras. Whenever John ordered flowers, Norma Jean created arrangements that looked far better than our meager budget should've allowed. Since then our financial situation had improved. We could afford to pay full price for Lindsey's wedding flowers and I argued with Norma Jean, telling her we were in a position to pay. We threatened to take our business elsewhere, explaining that she shouldn't be giving away her services, her flowers. We went round and round.
"I want to do this for her," Norma Jean said. "Are you going to deny me this little pleasure in my life?"
How does one argue with that?
So Norma Jean created Lindsey's bouquet and the corsages and boutonnieres—just like she's done for so many other folks in our community. And it was a wonderful, beautiful day. Norma Jean attended the ceremony, and afterwards, I noticed her in the corner with her camera, trying to capture pictures of the bride and groom. She was thrilled for her young friend.
But my daughter's marriage didn't last. Lindsey was sad. We were sad too. She visited with Norma Jean, sharing her woes. Norma Jean listened. She never judged.
"She just loves me anyway," Lindsey said. "Norma Jean worries about me 24/7. She always cares about me."
I certainly hope Norma Jean didn't really worry about my daughter 24/7 as Lindsey suggested, but I do know she truly cared for her. Although I thought some of these generosities were isolated to my special girl, when I attended Norma Jean's memorial service, I found that Lindsey wasn't the only recipient of her good deeds. It turns out that Norma Jean made every person she came in contact with feel cared for and important.
Last December I ran into Norma Jean at Hi-School Pharmacy. I hadn't seen her in awhile and figured, at 90, she might not recognize me without Lindsey at my side.
"Hello," I said, introducing myself as Lindsey's mom."
"I know exactly who you are," she said smiling. Then without pausing further, we talked about all sorts of subjects, reminiscing about the Challenger's team or Lindsey's birthday party, or whatever subject we felt like discussing at the moment. I couldn't get past how well she remembered faces she only saw occasionally. At 57, there were times I ran into someone I recognized, but couldn't quite place. Yet Norma Jean was as sharp as ever.
It's hard to believe, let alone accept, that future visits to Silverton Flower Shop will never be the same. Norma Jean's head will no longer pop out from behind the arranging room to see who has just stopped by. (Although her daughter, Carla's will.) Nor will there be any more hugs or words of encouragement from this inspiring woman.
So yes, Lindsey, you expressed all of our sentiments perfectly: We've lost a good friend, a wonderful friend. She was one of the kindest, loving, most generous people we've ever known.
Norma Jean, you will be missed.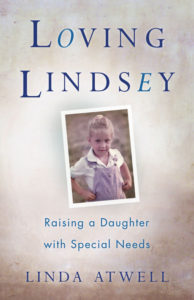 My first book will be coming out September 26, 2017. If you are interested in learning more about Loving Lindsey: Raising a Daughter with Special Needs, please click here.