A casual inquiry about how our friends planned to kick off their summer, turned into a four-day, forty-mile hike along southern Oregon's Rogue River Trail with four other couples.
Although John initially agreed to go, he quickly began spewing concerns. "Forty miles is a long ways," he said. "What if we run out of food and water?" he said. "You do know that forty miles is a long, long ways?" he said. "What if we become bear bait?" he added.
I tagged John: Mr. Reluctant, and told him we should prepare for this long-distance adventure by building up our endurance, so we could outrun the bears.
"I only have to outrun one person," he said. "And I know I can outrun you." I tried to shake off his cynicism by discussing our preparation goals. We agreed to walk eight miles a day—day after day—week after week, around our town, for a full month. What actually happened? We walked eight miles over very few days immediately preceding the start date.
We were as ready as ready as we'd ever be.
The day before the big hike began, our group of ten headed south on I-5 in several vehicles. First stop: Morrison's Rogue River Lodge, in Merlin, Oregon. We picked this place for two reasons. 1) We wanted to have a safe place to park all of our vehicles for the duration of our hike, and 2) they worked with a shuttle service that would transport our group to the trailhead—and at the end of the forty miles, back to our vehicles.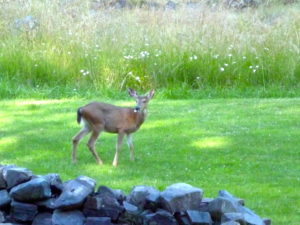 Morrison's was our first front row seat on the Rogue River. Adirondacks graced the lawn, enticing guests to come on down and rest for a while. If you accept the invitation, you're likely to see a variety of birds flying to and from the many birdhouses. You might spy a deer walking down to the river for a drink. When you tire of resting, you can walk the grounds and get lost in the lush greens of country life, or check out the main lodge and its homey interior, or find out what's on the menu for dinner in the dining room. Or you could be like us, and bring along food to grill on your own private patio so you can potluck with your friends. After all, heading out into the unknown, this might be your last meal. You should enjoy it. Besides, we had to mentally and physically ready ourselves for the next day.
Our daypacks contained only what could be easily carried on our backs. Clothing was limited—the outfit we wore and an evening change stuffed into our bags. For John and I, both were the same for all four days in an attempt to keep our packs less than ten pounds. We had necessary toiletries, lots and lots of water, and a bottle of wine. Like I said, only items that were deemed necessary.
Although hundreds, maybe even thousands of people hike this trail each year, John's concerns had begun to wear down my bravery. Hours before we were to head out, instead of sleeping, I stayed awake worrying. What did I get us into?
The next morning, when the big, white van dropped us in the Graves Creek parking lot, then drove away, I stood staring at the dust it generated as it got smaller and smaller, and finally disappeared around a turn in the road. My heart beat faster. Could John be right? Is this it? Will we ever see civilization again?
In reality, most hardcore hikers believe roughing it is the best part of the experience. For our group, we liked the idea of living it up. At the end of each hiking day, we planned to spend the night in a different rustic lodge along our route. A nice soft bed seemed like a just reward for the ten, fifteen, or nine miles in between our selected lodges. And the best part? We'd be spoiled by their staff. They would be serving up a home-cooked dinners and breakfasts as well as providing hearty lunches for the trail.
Within minutes of hitting the trail, and reaching our first uphill milestone, I knew we'd be fine. The scenery was gorgeous. The trail manageable. Our posse walked at different paces. Sometimes we were together. Sometimes we were further apart. It was close to ninety degrees by mid afternoon. I'd frozen the water I intended to drink because I like my aqua ice cold, but it didn't melt as quickly as I thought it would, and I tried to warm it with my hands. Several couples in our group wore water bladders—some contraption I'd never heard of but found intriguing. It was strapped to their bodies and seemed a lot easier than carrying a partially frozen water bottle. If I ever hike the Rogue again, I'll be donning a water bladder—that's for sure.
Our first ten miles included treks up, up, up, then down, and around rocks that jutted over the trail, and along steep drop-offs with impressive river views. There were places to stop and gather, places to rest, and places to enjoy lunch.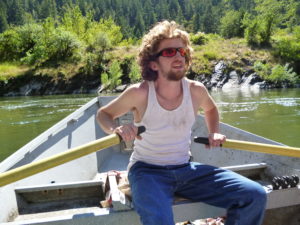 When we came upon the sign for our first night on the Rogue, Black Bar Lodge,  we figured it was all down hill from there. And it was. On a steep, rocky, goat-like trail—much different than the main trail we'd been hiking. I had packed walking sticks, and this was the first time they came in handy. Black Bar was located on the other side of the river, but the acoustics in the area were amazing. Adam heard us coming long before we saw him. He started rowing across the river, ready to pick up three or four people at a time. Back and forth Adam rowed, until all our crew were on the lodge side of the river.
Black Bar Lodge was a welcome sight. Exactly what you'd hope would greet you in the wilds. A thick grove of Douglas Firs. A lodge made of logs. Ten cabins nestled near the tree line. Gallons of ice tea, lemonade, and fresh-baked oatmeal cookies.
After drinking and snacking, we each picked a private cabin. Time to change (wash our quick-drying day clothes) and relax before dinner. Compared to the main lodge, the individual cabin interiors were sparse, the beds lumpy. However, the shower was good and hot. John and I were so exhausted, the accommodations seemed like a luxury suite at the Hilton. After everyone was freshened up, we met on the lawn in front of the lodge and sipped wine, watching a deer graze—unconcerned—within a few feet of us.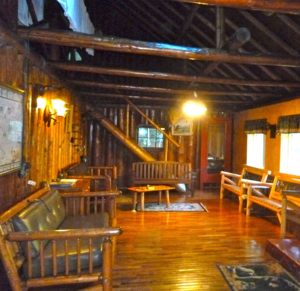 Inside the main lodge, dinner—fried chicken, mashed potatoes, homemade rolls, fresh green beans—was served family-style. All meals were included in the price of the lodging.
The generator stopped at 10:00 p.m. sharp—the only light after that was from the flashlights we carried in our daypacks. But light was not a problem. Everyone was tired; we all headed for bed.
The next morning, after a hearty breakfast of eggs, bacon, hash browns, toast, and fruit, oatmeal—too many choices to list, Adam rowed everyone over to the north side of the river (in threes and fours once again), and we hiked up the steep, rocky, goat-like trail, and headed west.
Terrains varied during this 14.8 mile day: meadows, river views, lush forests with leafy ferns. The path took us over many wooden bridges (snow melt gurgled underneath) before we reached our second stop: Marial Lodge.
For some reason, the (almost) fifteen-mile-day didn't seem as long as the first day (only 10 miles). Maybe we were adjusting to the trail, maybe we had a better water supply, maybe any apprehension we'd felt had faded. John would probably never do this hike again, so I treasured every step, every site.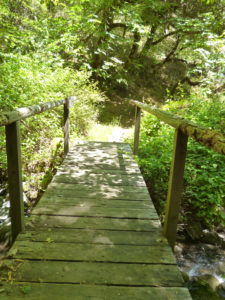 The owner of Marial Lodge directed us to private rooms that resembled Motel 6 accommodations: small, clean, simple decor with tidy bathrooms. Marial had a honor bar (pay for drinks from the fridge as you go). Beer and soda were fully stocked and taken advantage of by every thirsty hiker in our party. Dinner was served family style again—all homemade dishes, all heaped onto steaming hot bowls or platters.
The Rogue River lodges cater to both hikers and rafters. Normally, the lodges would be completely full and we'd share the place with rafting outfitters and their patrons. But our group lucked out; we were the only people at every single lodge that June. We didn't have to share the place with anybody.
Day three was one of our shortest hikes, about eight miles. Mid morning, we came upon Paradise Lodge. It was the perfect time of day to enjoy a cold beverage on the deck overlooking the Rogue. We were in no hurry to continue down the trail. The friendly staff allowed us to use the facilities as needed. We rested in the sunshine for close to an hour before picking up our packs and heading off the property, traipsing through a pasture, past a herd of milk cows chewing on some grass.
We arrived at Clay Hill Lodge (no link is included for this lodge because our experience was not satisfactory) in early afternoon, well before the stated check-in time. The owner wasn't ready for us, which was understandable, considering we were so early. Our group was content to sit on the deck, drink, chat and enjoy the river views and let him continue to clean and prepare our rooms. The few questions we initially asked were answered rudely. Other questions were ignored. I asked if there were any reading material or games at the lodge, and he curtly responded,  "No." Later, I happened upon a bookcase in the hikers area with plenty of loaner books.
We stayed out of his way for the two hours until the official check-in time. When it was time to be assigned rooms, he lead two couples to an area where they'd have to share a bath. Our reservations were for rooms with private baths.* The only occupants of this place were the members of our group. There were unused rooms, with unused private baths. Three couples asked about relocating but the owner was adamant, "Can't be done." The food (compared to the other two lodges) was disappointing.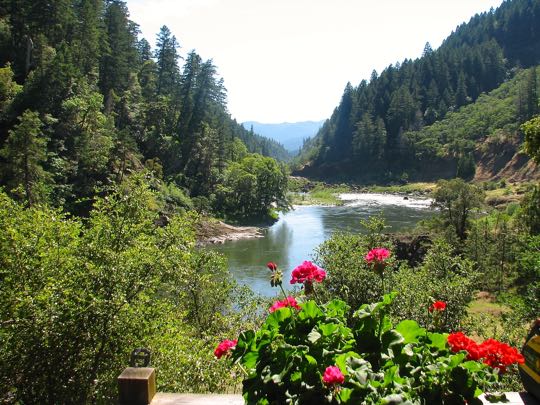 The upside of this place: It was the only lodge where we had a black bear sighting. As the sun was setting, I noticed movement in the bushes on the hillside. Out ran a small bear, heading for the river. He disappeared into the shrubbery. Thirty minutes later, he hightailed it from the brush, bounded up the hill, and disappeared into the forest. That was the extent of our bear sighting. I was giddy.
Although sunshine warmed the trail the first three days, the last day we woke to gray skies. We hoped the rain would hold off until we'd finished all forty miles, but that was not to be. An hour into the morning, sprinkles brushed our cheeks. A steady downpour soon drenched our clothes, and during the last six miles, water ran down my pant legs and into my shoes. Every step made a squishy sound.
Poison oak is abundant on the Rogue River trail (there are lots of warnings online about this, so we carried poison ivy wash—just in case). Foliage, heavy with rain, draped across the trail. We wore zip-on pant legs (the kind that turn shorts into long pants) to prevent any irritating plant oil from touching our skin. If anyone experienced an outbreak, it was minor. The rain did not dampen our opinion of this adventure, although by the time we arrived at Foster Bar, we were happy to see our shuttle van waiting to take us back to our cars. Everyone agreed: We had a fantastic time. But guess who turned out to be the most vocal?
That's right. John. "Great experience!" he said. "A real feeling of accomplishment." I shook my head, happy that we survived to tell about our Rogue River adventure—despite all my husbands apprehensions.
As for me, I am ready to go again.
---
* Regarding Clay Hill Lodge: once home, we reviewed our reservation documents and found that we had been mis-assigned rooms. Each couple had paid for a room with a private bath. One hiker wrote to the owner about this slight, as well as the mediocre meal (based upon the price paid at this lodge compared to the other ones on the Rogue—because it was definitely lacking). She received no response. We initially picked this place because it had been featured on a national TV show, but based upon our experience, I cannot recommend Clay Hill Lodge.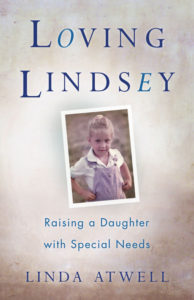 My first book will be coming out September 26, 2017. If you are interested in learning more about Loving Lindsey: Raising a Daughter with Special Needs, please click here.