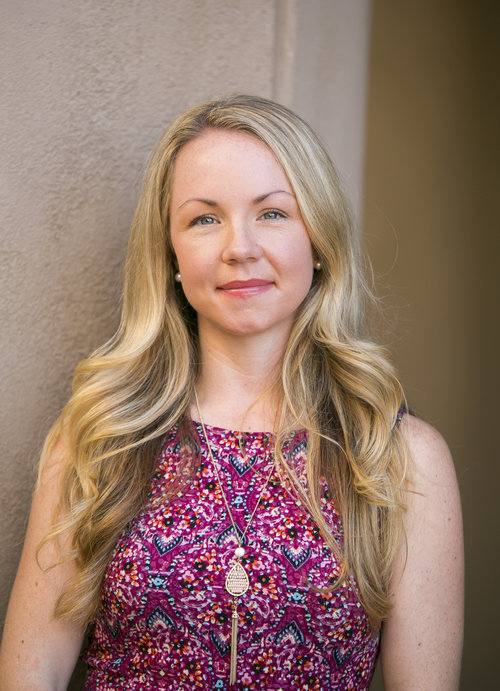 Several years ago, when I was attending a writing workshop on the shores of Lake Atitlan in Guatemala, I met Nadine Kenney Johnstone. My first impression? Nadine is an adorable, petite, blonde with a beautiful, bright smile. She lives near Chicago and teaches English at Loyola University. Still, I was most interested in the story she'd written about her nine frozen embryos—an essay about the pain and heartache of her struggles with infertility. After reading Nadine's words, I wanted more of her story.
And now, we all get that chance. Her book, Of This Much I'm Sure, will be released April 11 by She Writes Press.
At twenty-two, Chicagoan Nadine Kenney is thrilled to meet her future husband, Jamie, while vacationing in Florida. After a whirlwind, long-distance romance, Nadine leaves her friends, family, and city to join Jamie in suburban Massachu-setts. Once married, they begin trying for a baby without knowing how hard that road will become.

Nadine soon faces the little-known horrors of IVF when a procedure causes severe internal bleeding, and she wakes up from emergency surgery with a six-inch scar instead of a baby bump. In the difficult year that follows, anxiety and additional failed fertility treatments threaten her new marriage and her mental state. By some saving grace, she eventually becomes pregnant naturally, but the horrors are not over: her son is diagnosed with potentially terminal kidney complications. Ultimately, Nadine learns that in an unpredictable life, the only thing she can be sure of is the healing power of hope.

"Of This Much I'm Sure says it—the truths we keep secret. It goes there: messy and beautiful and complicated and terrifying and, ultimately, joyful. It's a story about fighting like hell. It's a story that is more necessary than ever before."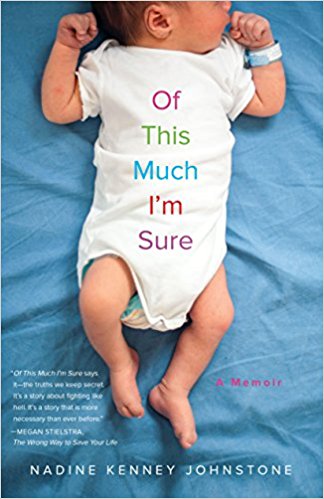 Recently, I had the opportunity to chat with Nadine.
1. Why did you decide to write Of This Much I'm Sure?
I decided to write this book because it felt as if I were carrying a secret. Going through IVF (in-vitro fertilization) was like living a double life. During business hours, I was an English professor in Massachusetts, but before work, I'd be at the blood and ultrasound lab at six-thirty in the morning. Then, in the afternoon, I talked on the phone to the nurses about my results. In the evening, I gave myself injections. It was all-consuming. My husband and I told no one besides a couple of family members. But then, when I almost bled to death after my egg retrieval procedure, I needed to talk about it because I was fighting for my life. I stayed in the hospital for five days and was out of work for two and a half weeks. I could have lied about why I was out of commission, but suddenly realized that our infertility struggles were nothing to be secretive about. Was I not allowed to talk about our story because, god forbid, it involved reproductive organs?
I went into my emergency surgery as one person and came out a completely different woman. When I was clothed, no one could see the long scar down my abdomen from the emergency surgery, so I didn't necessarily need to explain my situation, but I wanted to warn the world that I wasn't the same. There's a quote in my book that describes exactly how I felt at the time:
"There's no outward proof of what I've been through, so I don't have to talk about it, and yet I want to wear a pin that says, Tread cautiously, I've been through some shit lately."
So I started talking and writing about it. I published an essay in PANK about our frozen embryos and the mental anguish of infertility, called "Nine Babies On Ice." When I realized that our journey could fill a whole book, that's when this memoir was born.
2. Although I have had friends and relatives who have struggled with infertility, I personally have not. What should, or should I not say to a young woman who is going through in-vitro fertilization (IVF). I certainly don't wish to say the wrong thing. So Nadine, for those of us who have not dealt with infertility, how can we support our friends and family that may be struggling?
One of the hardest moments in our journey was when my husband and I found out that my sister-in-law was pregnant and had the same due date that we would have had if our IVF cycle had been successful. I wanted to be happy for her and my in-laws, but I was so jealous and heart-broken that I couldn't help plan her baby shower or look at her ultrasounds. I couldn't even go past the baby section at Target without sobbing. During that time, I felt like no one was saying the right thing. Looking back, I now know that there is actually no "right thing" to say.
The number one thing to do is listen. This is actually much harder than it sounds. Listening is the only thing you should do, but there are many things you shouldn't do. You shouldn't tell them that everything happens for a reason, or that they just need to relax and then they will get pregnant. You shouldn't try to sell them on hormone treatments or IVF or adoption. They will decide what's best for them when it's best for them. Your job is to listen, acknowledge, and hug. Forgive them for being more sensitive than they'd normally be, for being angry at other people's joy. Give them a hall-pass.
3. What words of wisdom can you share for others who are struggling with fertility and treatments?
The lowest point in our journey was the day I almost died after the egg retrieval procedure. I was an anxious mess, my marriage was near dissolving, I was jealous of every mother I saw, all the doctors were telling us how low our conception odds were—I received an email from my husband's cousin, Amy. She is a life coach and a doula. Her first sentence was: "You will have a baby, of this much I am sure."  I cannot tell you how hopeful and uplifting it was just to hear someone speak in affirmative, confident language. So repeat this mantra or find someone who will say it to you: "You will have your baby. Of this Much I'm Sure."
Speak. Speak to yourself, to other people. But whatever you do, do not keep this journey a secret.
"Ultimately, Johnstone's is a story about the hard work of self-examination, the importance of forgiveness, and the power of hope to get us through."
—Katherine Ozment, author of Grace Without God

"Johnstone's candid, affecting memoir isn't just for readers who've been through IVF or wanted to become parents. It's for everybody, its truthful charting of emotion in the face of terrible adversity and the will to keep trying does what all good writing does: it helps us feel less alone on this journey of being human."
—Jenna Blum, NYT and internationally bestselling author of Those Who Save Us, The Stormchasers, and "The Lucky One"

"It is simply outstanding. And while I think every woman who battled this ugly disease should read this book, I really, really, REALLY want to encourage individuals walking alongside women on this journey to read this book. It will give you such an incredible understanding of how hard infertility is on every single area of your life."
—Wendi Kitsteiner, Daily Blog
These three reviews of Johnstone's book are certainly an indication that this is a must-read memoir. You can find Of This Much I'm Sure at bookstores and online retailers. She will be reading a portion of her book at Another Read Through in Portland, Oregon at 7 p.m. on May 12, 2017. Please join me in supporting this brave author as she shares this very personal story.