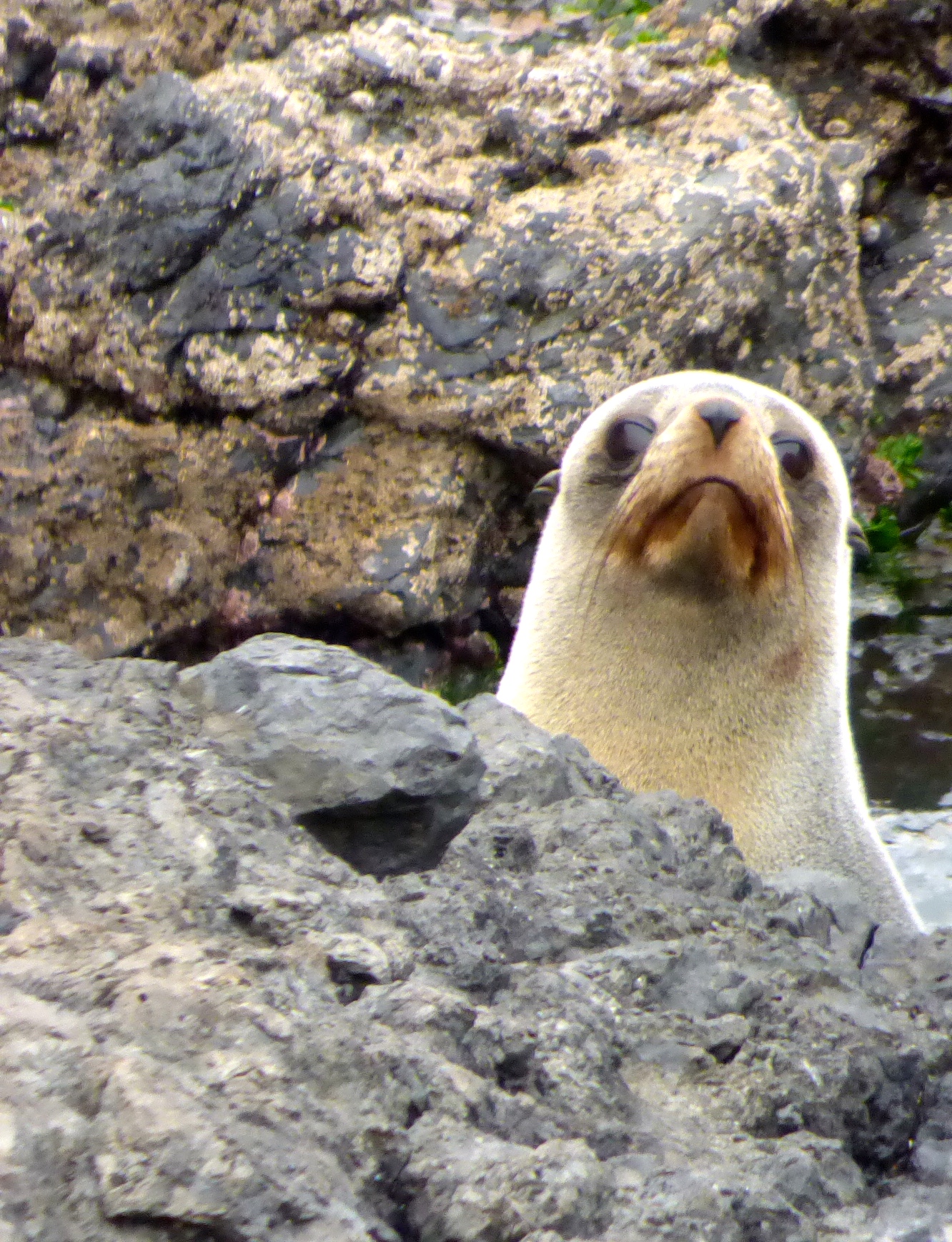 Some women dream of receiving jewels for their anniversary, others of the latest Gucci handbag. But ever since John and I were married, I've never wanted to waste any of our extra dollars on trinkets such as those. Not that there is anything wrong with wanting and receiving such gifts, but John learned early on, those weren't the things that made my heart sing.
So what do I dream of? Travel. I dream of travel. All. The. Time.
When it came to our 35th anniversary, I suggested a Holland America cruise to New Zealand and Australia to honor this milestone.  And as much as I wanted to experience snippets of these countries, I also wanted to see as much of their wildlife as possible.
On the morning that the Noordam anchored in the Akaroa Harbor and John and I stepped into the tender that would take us to the port, all I could think of was the private excursion we'd booked before we left Oregon. The Akaroa Seal Colony Safari. I was going to be up close and personal with the New Zealand fur seals—and I could hardly wait.
Paul Le Lievre held out a sign with our name so we could easily spot him on the dock. I had expected a small group of travelers (six to eight passengers), but we were the only ones for that afternoon trip. Lucky us!
As Paul drove away from Akoroa—an adorable seaside village with a French flavor—and toward Paua Bay, he steered the van up the curvy road and into dense clouds. Then suddenly we were above the clouds where the skies were crisp and blue and we could see New Zealand at its finest—graceful green mountain peaks, grazing sheep, and grasslands bending from a gentle breeze.  At every turn, Paul mentioned the magnificent views we were missing—the ones below—stubbornly blocked by cottony billows so thick it appeared to be huge, white pillows that one could easily nuzzle into and fall asleep.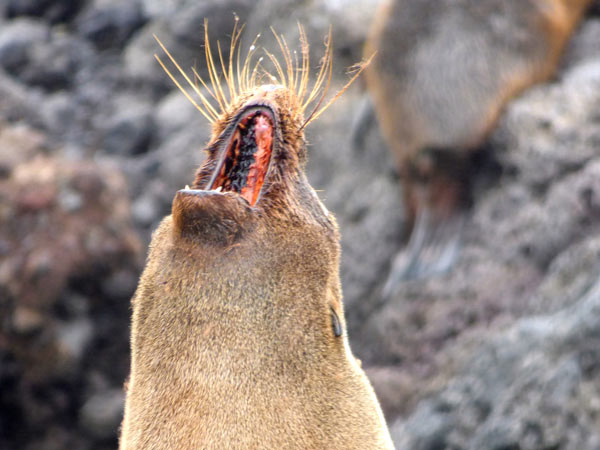 During the forty or so minute drive to the other side of the peninsula, we learned that besides the Akaroa Seal Safari tours, for those staying longer than a limited cruise ship stop allows, Paul and his wife fill their home with guests who book nights at their bed and breakfast. Because they live on a large farm, they also participate in work-stay programs. People receive free room and board in exchange for a few hours of work each day.
Then he told us about the seals: how males compete for territory within the colony throughout the breeding season; how females arrive at the colony from mid-November to mid-January; how a female gives birth to only one pup, then will only suckle her very own; how if a mother dies, her pup will also die because no other mother will take on that pup.
Paul talked about the seal's natural predators: sharks, killer whales, sea lions, and leopard seals. He shared that the fur seals have a high mortality rate. Only forty percent make it from birth to 300 days. Starvation accounts for seventy percent of the deaths in pups up to 50 days old. Then he added, "Suffocation, trampling, drowning, and predation account for the other causes of death."
The seal colony we were headed to is located on the far end of Paul's private property. We left the paved road, entered a dusty track, and then traversed down the other side of the hillside, and over some unplanted fields before reaching the end of the line: the sea. Although wisps of low clouds surrounded us once again, as soon as we exited his van, we heard the seals talking to one another. After Paul described a seal's chances of survival, I was delighted to hear so many of these mammals squealing loudly.
Within seconds, Paul told us to put one foot here, the other there, as he helped us climb down a rugged cliff, over rocks, and scramble closer to the colony.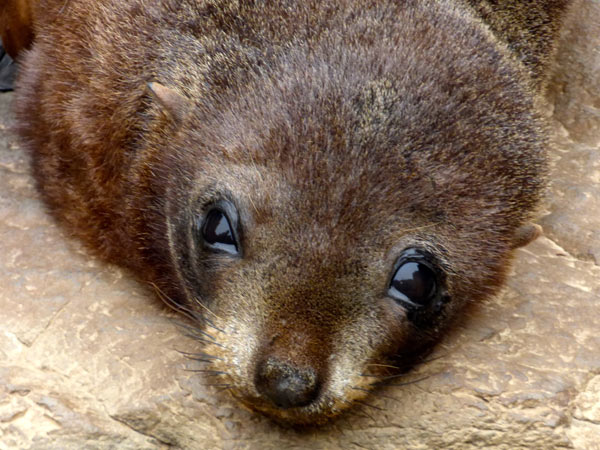 The first New Zealand fur seal I came across was a baby. Maybe toddler is a more accurate description because he was several months old by now. I couldn't believe his tiny ears, his cute little fore flippers. As we walked, we learned that rookery locations must provide protection from heavy seas and land-based predators. The seals must have easy access from the sea and small pools for the pups to cool off and practice swimming. I immediately saw a handful of pups doing exactly that. Diving and swimming and playing and singing. I was in heaven.
Fur seals of all shapes and sizes were on the rocks—some squawking, some sunbathing, some sleeping. Other seals couldn't make up their minds if they wanted to be in the water or on the solid surface and jumped in and out, then in and out of the small pool over and over again. Paul explained that the baby seals practice swimming in these protected areas to build up their strength and confidence before attempting to swim in the open seas. And during our visit, many of the pups were doing just that. And I was standing in the middle of this colony, watching seals in every direction do their seal things.
Paul guided us closer to the colony as we grabbed onto jagged rocks and pulled ourselves up, climbing until we reached a shelf that could hold the three of us. I snapped photo after photo, and Paul shared more seal facts. At one time, New Zealand fur seals were hunted by the Maori for food and clothing—their teeth were used for carving fish hooks.
He allowed us to stand on the shelf—for what seemed like close to an hour—happy to see us mesmerized by these slippery creatures. At least the wet ones looked slippery to me. Apparently, the texture of their fur resembles a polar bear. It is designed to shed, rather than hold onto water so it quickly dries.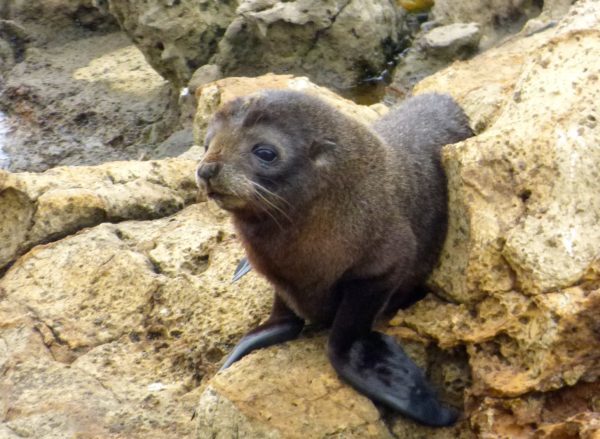 Paul ended the viewing portion of our tour assuring us that the New Zealand fur seal exploitation by humans has ended. "This beautiful mammal is now fully protected for all time."
We climbed back up the rugged cliff to the van. Paul pulled out a picnic basket with a thermos of hot liquid and homemade muffins. We sat on the edge of the bluff, surrounded by those persistent wispy clouds, listening to the seals, and enjoying afternoon tea.
Then Paul drove us back to the dock. Some of the seaside views had opened up—the clouds had lifted and we could see what he'd been bragging about on the way to Paua Bay. The views truly were majestic, and he gladly stopped so I could snap more photos.
This three or so hour tour was one of the top ones we've ever taken. If you are a fur seal fan, prefer small, intimate tours, and/or are visiting Akaroa, New Zealand, please check out Paul and his Akaroa Seal Colony Safari. His prices are incredibly fair, and seeing fur seals in their natural habitat will be a memory you'll hold onto for a very long time. And his homemade (yes, Paul really does bake his own treats!) muffins are nothing to sneeze at either.
Thank you, Paul, for a lovely afternoon and sharing a part of New Zealand few people ever get to see. It was a dream come true. And fortunately, I have a husband who tries to make all my dreams come true.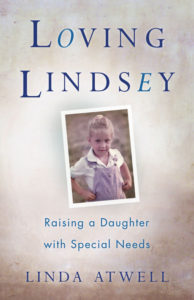 My first book was released September 2017 by She Writes Press. If you are interested in learning more about Loving Lindsey: Raising a Daughter with Special Needs, please click here.