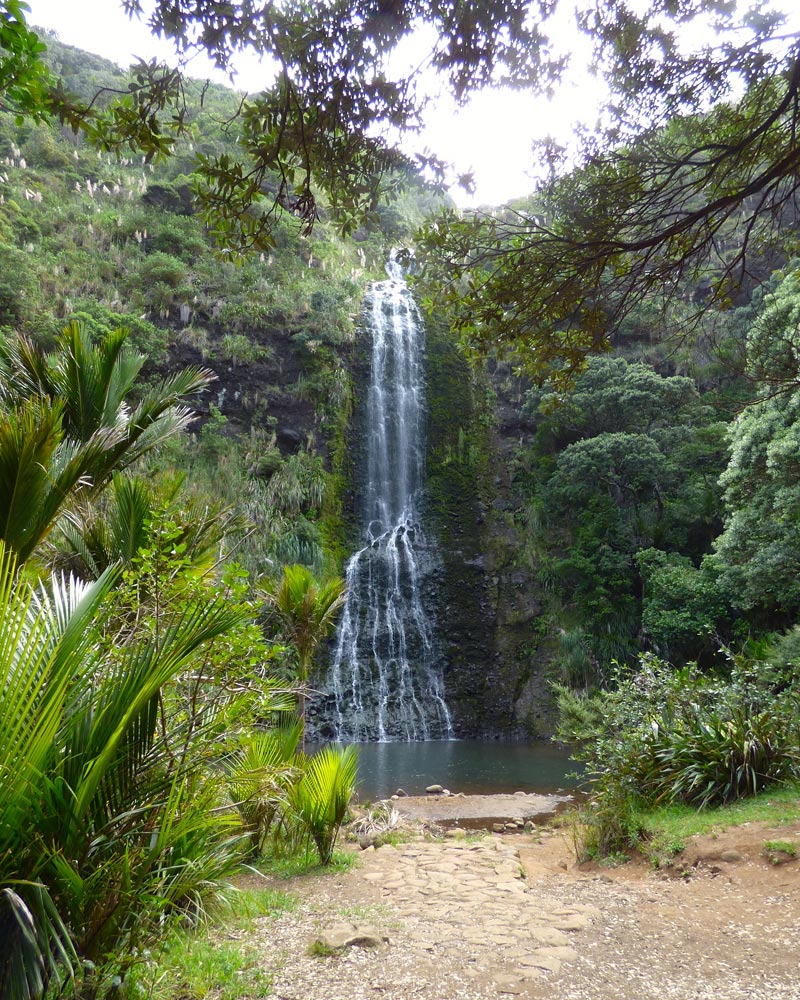 John and I are not tour people. We don't particularly like large groups, or wearing some sort of identifying badge, or following a guide around as if playing follow the leader.
Yet, we wanted to go to Piha, a tiny village on the west coast of the north island. If we could get there, Tripadvisor promised waterfalls, wildlife, lush forests, and black sand beaches.
New Zealanders drive on the opposite side of the road than we do, and many of the hilly two-lane highways wind up and down and around sharp curves. I love to drive and have steered vehicles along the roadways in Italy, France and all across the U.S.A., but I was leery of navigating these kinds of roads from the unfamiliar seat in a rental car. John was even more leery. So we booked a half day trip with Oh yeah! Tours. Now we count this experience as one of the top five tours we've ever taken.
First of all, Matias picked up his five guests in an extended 4×4 SUV. As we traveled further away from Auckland and into what Matias called, authentic New Zealand, the views through the SUV's windows grew greener, lusher. We had heard there were lots of similarities between New Zealand and Oregon, and several times during the drive, John and I commented on how true those statements are.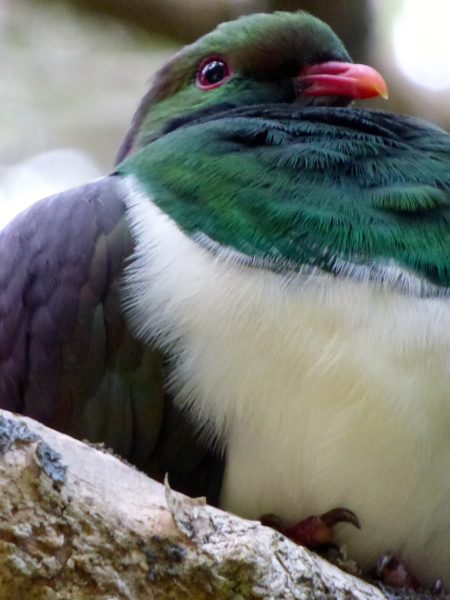 Forty-five minutes later, we were walking Taraire Track—a trail with two waterfalls in lovely garden-like settings. The tracks (what we call trails in our neck of the woods) were easy to maneuver. The grades were manageable. The first waterfall was small and sweet. As we followed the track deeper into the woods, we came upon our second fall—a taller, bigger rush of water than the first one—surrounded by ferns and moss and plants I did not recognize. This was definitely authentic New Zealand.
As our small group prepared to head back to the SUV, someone happened to look up. There, sitting on a branch in one of the trees above us was a colorful Wood Pigeon. He just sat there, letting us snap picture after picture. Besides the pigeon, we saw several other birds and Matias was knowledgeable, sharing names and telling us a bit more about each one.
Then our guide drove us closer to the coast. At the crest of a hill, he safely pulled over to the side of the road and provided one of our first (and best) views of Piha Beach and Lion Rock—a rock formation that looks remarkably like a sleeping lion. Our group piled out of the vehicle, and everyone took more photos. Matias was never in a hurry. He was willing to stand on the side of the road until each person was satiated from the sight.
Now we were nearing the best part of our six-hour tour. The free time. Matias pointed to the black sand beach and Tasman Lookout Track—a second viewpoint overlooking Piha. Then he drove us about a mile to Kitekite Falls and dropped us off. We wouldn't see him again for over three hours. We were on our own. We could walk at our own pace, stop when we wanted, and photograph whatever caught our eye. It was perfect for us. No one to slow us down, and yet, we weren't slowing anyone else down either.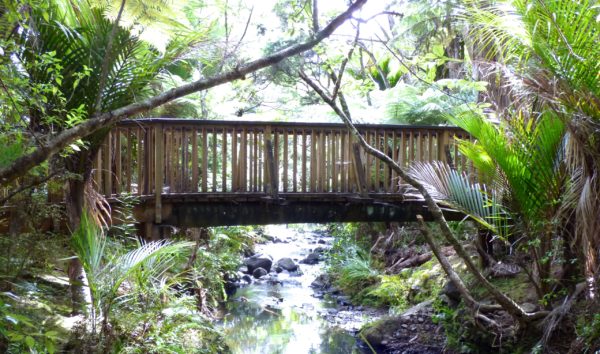 Kitekite Falls took us about an hour round trip. Just a few steps into the forest, hikers are asked to brush and spray the bottom of their shoes. Certain trees are sensitive to bacteria that can kill an old tree in as little as thirty days. New Zealand conservationists are taking strides to keep their native trees alive—brushing and spraying footwear has been found to be a successful strategy.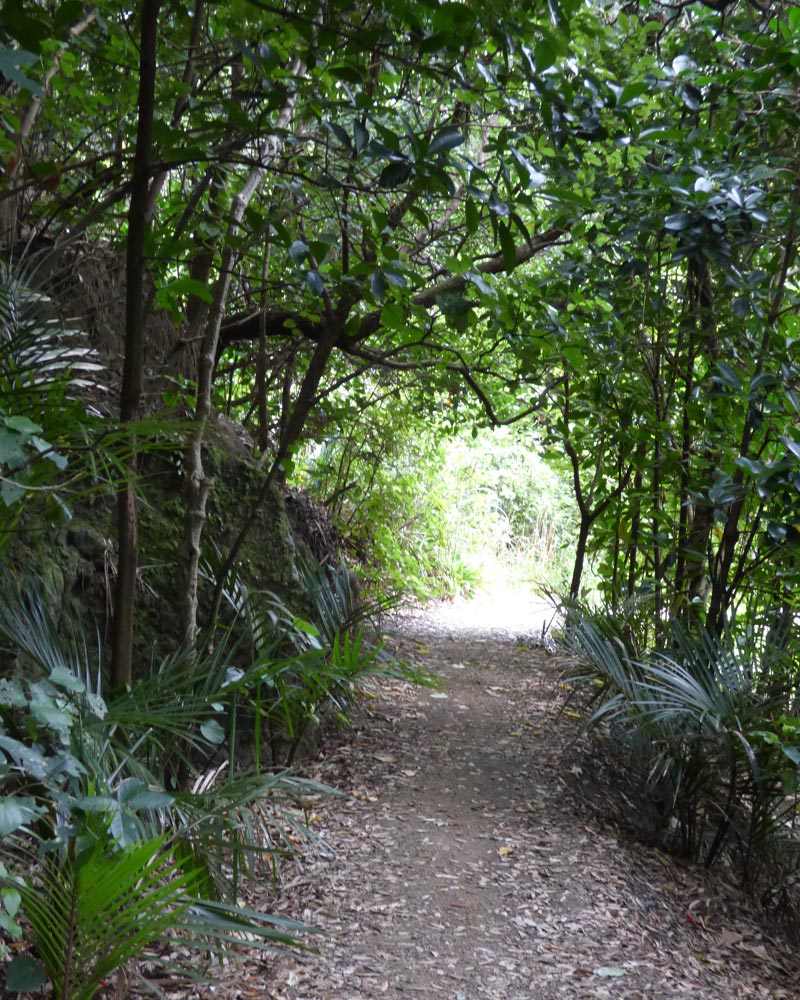 KiteKite Track was well groomed, steep in some places, a few tree roots in others, and had several narrow wooden bridges along the trail. Listening to birdsong, cicadas (which are very loud in certain places), as well as the creek gurgling near the pathway was the perfect way to spend an early afternoon. The forest was humid, and by the time we reached the falls, I was pretty darn drenched.
Whenever John and I explore new places and hear people brag about their waterfalls, we're intrigued and plan to take a look. Once we reach their falls, we often find a trickle of water—something locals seem impressed with, but we find disappointing. After all, we live next door to Silver Falls State Park. Although Kitekite Falls did not compare to any of the Oregon falls, it did have an impressive amount of water cascading down the mountainside. It was certainly worth seeing.
There are no high-rises, hotels, or restaurants on New Zealand beaches. At least we did not find any. This country appears to value preserving their precious beaches over making money from them. The only restaurant near the shore is Adey's Place, located beyond the parking lot, and is known for serving fresh fish. If fish isn't your thing, you should definitely pack snacks. And for all the hiking trails, bring water. Lots of water. And suntan lotion.
This tour is best for individuals who don't mind doing a lot of walking. If you like to explore, you will see some incredible New Zealand scenery. On the other hand, Kitekite Falls was an optional part of the tour. It is your time to do with as you please. So if you are a sunbather or swimmer, you could stay at the beach, roll your blanket out on top of the black sand, and enjoy the sun and sea all afternoon. It is also a great place to watch the surfers, and during our visit, plenty of men and women were in the water waiting to catch a wave.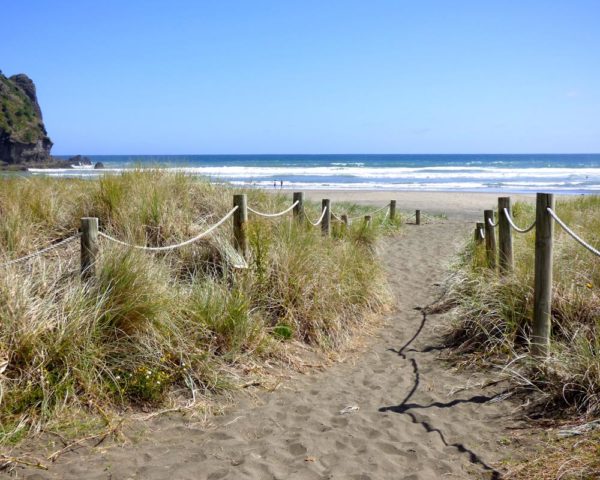 During the last thirty minutes of our free time, we walked on the black sand beach, put our toes in the warm waves, and enjoyed the beautiful afternoon.
If you visit Auckland and are looking for a half day, independent trip, please check out Oh yeah! Tours. Matias is great, and Piha is well worth the cost to get there.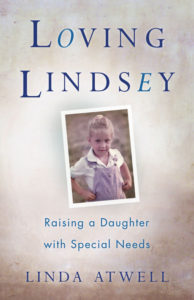 My first book was released September 2017 by She Writes Press. If you are interested in learning more about Loving Lindsey: Raising a Daughter with Special Needs, please click here.