I love love. And since this romance reminded me of Nick and Lindsey's love story, I had to share.
---
Forty year-old Sonia Knight and fifty-two year-old Sam Corprew, a couple in Virgina with developmental disabilities, met many years ago at a track and field event sponsored by Special Olympics.
"On May 23," Sam says, absolutely certain of the exact date. "She's a very nice girl and she's really smart," he added.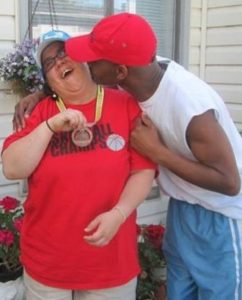 One thing they have in common? Sports. Big time. He's a Raider's fan, she cheers for theMiami Dolphins. Yet their football rivalry never comes between them. They also like to play video games, to watch T.V., to play charades. And they still participate in Special Olympics whenever they get the chance. Sonia won another medal in June and Sam eagerly rewarded her with a victory kiss.
Sonia can't read or write (except her name), but Sam can. He passed the State Of Virginia driving test and drives Sonia around Virgina Beach in his red Pontiac Grand Am. They built a loyal friendship. Over the years, their friendship grew into something more and they decided to share a two-bedroom apartment.
Now Sam works in a laundry facility washing linens for hotels. Sonia performs janitorial jobs for Geico. They both work 25-30 hours each week, earning too much to qualify for Social Security benefits, although Sonia does receive Medicaid. Section 8 housing pays a portion of their rent.
Sam's mother died several years ago and Sam found himself alone in this world. Until Sonia. She fell in love with him. So Sonia's family fell in love with him, too. Sonia's mother, Lia Knight, helps the couple budget; she pays their bills; she buys their groceries; and she cooks their meals. At sixty, Ms. Knight supports herself by cleaning other people's homes and taking the elderly to and from medical appointments. She cooks for her clients, too. It's getting harder to do this work due to severe arthritis in her hands and knees, but she'll do what she can, for as long as she can.
Sonia and Sam can't imagine ever being apart from each other.
"We want to get married," Sonia said, during the last week in May.  "On the beach. In the sand." She'd been talking about a wedding for years: how she dreamed of looking like a princess; how Sam wanted to wear a white suit; how they both wanted Sonia's two nieces to be the flower girls; and how they'd already picked four people (each) who would stand beside them in front of the preacher. Ms. Knight suggested a small backyard wedding, but Sonia squinted her eyes and tilted her head. Her black glasses slid a bit forward on her nose. "Can't I get married like my sisters did? We want a reception." Sonia squinted her eyes tighter. "We want a first dance. We want to eat meat and mashed potatoes."
Mrs. Knight planned to take out a loan to make her daughter's dream come true, but Sonia's sister, Monica Johnson, suggested another route: a WePay campaign to fund the wedding. Monica created a Facebook page to spread the word: Sonia and Sam, Our Love Is As Real As Yours. She ordered Sonia and Sam wristbands to sell for three bucks each–with all the proceeds going toward this couple's special day. And it's not like this family is planning a Kardashian event. They've budgeted three thousand dollars. The campaign is already a third of the way funded.
Last weekend, a woman donated a used wedding dress, but it didn't fit Sonia the way she'd hoped. Ms. Knight took the bride-to-be shopping for a gown that Sonia would love. Shirley Slayton, of LeStar Bridal, listened to this special couple's story, then charged Sonia only one hundred dollars for an eight hundred dollar dress.  Sonia practically skipped through the open glass front door with the new gown draped over her arm.
"It's white," Monica told me in a phone call. "And sleeveless. It goes to Sonia's ankles. And she looks like a princess. Just like she wanted."
When it was time to pick out the wedding flowers, Sonia said, "I want dark pink." She picked a simple bouquet of roses to carry when her father walks her down the white sandy aisle. "And I want dark pink for the bridesmaids and maid of honor dresses, too," she added.  Monica surfed Ebay and located dresses that met Sonia's approval, then found two white satin and chiffon flower girls dresses, adorned with dark pink sashes around the bodice. The dresses came with matching dark pink headbands, too.
Dr. Scott Rosenblum, the dentist in Virginia Beach that Monica works for, donated enough money for the family to put a deposit on a reception hall. Mary Stone, a wedding planner saw Sonia and Sam's story on Facebook and asked to make this couple's dream a reality. She offered her services free-of-charge. Mary spoke to Leon at Leon's Custom Cuisine. He cut his regular price to less than half and plans to serve a menu of grilled chicken, sliced prime rib tips, and mashed potatoes to the reception guests. Two wedding cakes have been donated, compliments of Monica's co-worker, Jennifer Brooks, and Anna Lilly, owner of Bella Cakes.
"Oh my God, I'm gonna cry," Sonia said, when she heard of the generosity of all these people. "I can't believe they want to help us."
Monica asked their Facebook followers to recommend music for the bride and groom's "First Dance" as husband and wife. On Sunday afternoon, the couple listened to all the suggested songs and picked, You Are by Charlie Wilson. They've hired a DJ. And Monica secretly shared, "I know they would love to ride in a limousine. They've never done that before." But Monica isn't sure if their budget will allow for such a luxury. "But it would be a great surprise if we can afford it," Monica added.
Sonia's dad will be flying in from Medford, Oregon. Other family members are traveling from various cities and towns. The family cleverly scheduled the August 11th wedding to coincide with an already pre-planned family reunion. "To save everyone money," Monica explained. "So they don't have the expense of making two trips.
In August, after the late afternoon Sunday vows, the official wedding dances, the meat and mashed potatoes,
visiting with friends and family, and all the other reception festivities, Sonia and Sam will spend two nights honeymooning at a Virginia Beach hotel near the sandy spot they plan to marry. The next day, this couple will hold hands and walk out of the hotel. They will stroll down Virginia Beach for the first time as husband and wife, and remember their wedding day and the generous people who made this special dream come true.
---
If you would like to help make Sonia and Sam's dream a reality, please check out their Facebook page: Sonia and Sam, Our Love Is As Real As Yours, or their WePay page where you can make any size donation, starting with $1. Every little bit helps.
Wedding wishes can be mailed to:
Sonia and Sam
c/o Monica Johnson
741 Tanoak Ct
Virginia Beach, VA 23462
If you prefer to email a wish, please use this special address created just for them: specialweddingwishes@gmail.com
All photographs on this post are compliments of Monica Johnson at Sonia And Sam: Our Love Is As Real As Yours