Sometimes you meet a person in the world who deserves to be recognized. And last month, I met Lindsay Stephens. She is thirty-four, and although she has a hearing impairment and cognitive disabilities, she is a young woman who doesn't feel the least bit limited by her challenges.
Lindsay makes her home in La Grande, a small town in eastern Oregon. She has been living independent of her mother, Laurie Powell, and father, Jeff, ever since she was twenty-one.
"It was a mutual decision," Lindsay said. "I wanted to have my own place." And because of Social Security Disability benefits, as well as various Oregon programs that support individuals with mental and physical disabilities, that dream was made a reality.
But this wasn't Lindsay's first time to reach for a goal and succeed. Ever since she was eight-years-old, Lindsay has participated in Special Olympics. She was a downhill skier, ran in track, played basketball and volleyball, and is currently on the bowling team.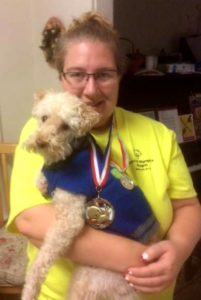 "My average is 136," she said, grinning. "I have over a hundred medals."
"From bowling?" I asked.
"From all the sports," Lindsay clarified.
Although my Lindsey is not a fan of traveling, this Lindsay is. She has traveled to Norway with her aunt and stayed a month. One of her favorite memories of that trip was eating at a restaurant that was built over a freeway.
"It looked like the cars were coming right at us," she said, telling me that she's also flown to Arizona all by herself so she could visit her grandfather and has made a visit to Disneyland with family.
Her best friend is her poodle, Perky. She's had him for five years, and everyday, they take long walks. She spends much of her spare time crafting and has recently become a huge fan of the Portland Pickles, a wooden bat baseball league.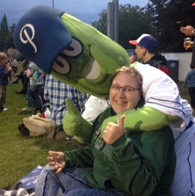 "It's all about baseball now," Lindsay said, unable to contain her excitement for the game. She pulled out her cell phone and showed me a picture of the time she was hugged by the Pickle mascot. She has also traveled to Phoenix with her dad and stepmom for Spring Training and was able to attend several games with her grandfather.
But the one thing Lindsay is super proud of is her recent appointment to the Oregon Council for Developmental Disabilities (OCDD)—an organization whose mission is clear: "To advance social and policy change so individuals with developmental disabilities, their families and communities may live, work, play, and learn together."
And OCDD has a great vision too. "That all communities welcome and value people with disabilities and their families."
Lindsay heard about OCDD through her Union County caseworker. In order to be considered for this program, she had to complete a thorough application and be willing to make a four-year commitment. Her family encouraged Lindsay to apply. If she likes it (and they like her), she can renew for a second term.
"You do all this legwork and then you wait," Lindsay said. "When I got the letter from the governor, I felt like I was doing something important. I can't believe I've gotten this far!" She has already framed Governor Kate Brown's letter and plans to hang it on a wall.
OCDD has thirty-three members—thirteen of the seats must be filled by someone who has a developmental disability. The group meets every other month to discuss how people with disabilities can be supported. In order to live independent lives, each person has different needs, different expectations at what will help them continue to live by themselves. And there are some people who haven't attempted to live on their own yet, but they want to give it a try, so they need help to move in that direction.
"One of the big issues is jobs," Lindsay said, stating this is an important issue for her, too. She discussed the significance of vocational rehab programs and talking to a job coach for people like herself. She explained that she had jobs in the past, but for a variety of reasons, they have not lasted.
"Maybe this appointment will give me more skills," she said. "Maybe I'll eventually get a paid position with OCDD."
She's already putting herself out there. The OCDD has been shorthanded for quite sometime, and therefore, behind in some of their computer work. Lindsay has pretty good computer abilities, so she immediately volunteered to help with those jobs. That's just the kind of gal she is.
Lindsay attended her first OCDD meeting in June and is still learning exactly what her responsibilities will be. But she isn't a young woman who sits around and waits. She already has a plan. She eventually wants to meet and/or talk with other people in Union County who have disabilities so she can learn what services would enhance their lives. Then she plans to bring that information back to the committee so OCDD can figure out ways to help them.
So see, Lindsay Stephens is a young woman who is going places, and we need to keep our eyes on her.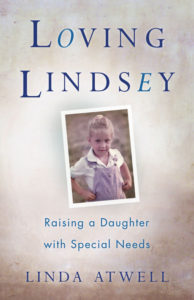 My first book was released in September 2017 by She Writes Press. If you are interested in learning more about Loving Lindsey: Raising a Daughter with Special Needs, please click here.