"Three Seconds" recently appeared in Perceptions Magazine Of The Arts, and won first place in the 2012 E. Riney Memorial Award Contest. Last December, it appeared in The Storyteller Magazine–A Writer's Magazine. Although The Storyteller incorrectly listed this as fiction, it is in fact a a true story. My only wish is that I could have done something to change the tragic outcome. 
---
I sat on the hotel bed in Wichita and tied the laces on my Cougar Paws. Now I'll stick to the roof like flypaper, I thought, inspecting the traction pads Velcroed to the soles. Still good. I stood, stomped a few times, settling my feet into the company-issued boots.
I climbed ladders for a living. My job: Insurance Catastrophe Adjuster. Every time I reached the top of a house and felt the solid surface beneath my feet, I experienced an odd, powerful, exhilaration. She-woman comes to mind. I'd take a deep breath and turn full circle looking at mountains dusted with snow in Reno, plush golf course greens in Phoenix, and boats—their sails bloated by wind in Chicago. No view? No problem. I'd check out the adjoining yards, the pools, the neighbors.
I could have worked a desk job in my home state of Oregon. But I loved to travel. I didn't mind sleeping in hotel rooms for twenty-one nights at a stretch. I didn't mind eating meals in restaurants or microwaving a Lean Cuisine at the Residence Inn. My children had grown, were living independent lives when my husband said, "Do work that makes you happy."
The first time I drove to Louisiana, toward Hurricane Lili, excitement brewed in my belly, building in my chest. Three clogged lanes of cars and trucks and motorhomes crept along in the opposite direction, but I pressed on the gas pedal, hoping to be the first adjuster to arrive in Alexandria. Every time the company sent me somewhere new, I'd pinch myself and say, "You're so lucky."
For five years I evaluated weather-related claims. In Beaumont or Houston or New Orleans it was hurricane damage. In Springfield, tornados ruined houses and barns. From Oregon, it could take four days of driving my logo-emblazoned company car to reach my assigned territory. All the while, I'd gawk at the different terrains, sing along with Kenny Chesney, and grin.
But on this July day, I'd been assigned to Wichita to handle hail-damaged roofs.
I woke to soft, forget-me-not blue skies. Perfect weather for inspecting. No morning dew on the shingles. No clouds to obscure the damage.
My first appointment: a two-story house that needed assistance from a contractor with a commercial-sized ladder. I arrived at nine A.M. The house, built with brick and wood and stucco, sat on a tree-lined street among old, dignified homes with groomed yards, and glazed concrete driveways.
Adam waited in the cab of his white Larry Walty Roofing truck. When I pulled up, he opened the door and hopped out, striding toward me wearing relaxed Levi jeans and a red, short-sleeved shirt. Adam extended his hand, pumped mine firmly. "I'll get my ladder," he said, running a hand through his cropped brown hair.
"Need any help?" I asked, snapping a tool belt around the waist of my khaki slacks. I grabbed my clipboard, a roofing worksheet, and a mechanical pencil. Adam shook his head. My eyes traveled upward, toward the slope of the roof. Gabled, barely any pitch, like walking up a bunny hill at the ski park. I spotted a brick chimney and scribbled a note: check the flashing.
Adam set up the ladder, pulling the burly rope hard, extending the rails, the rungs up the wall, past two stories of windows. He gently leaned the top against the Gutter Helmet, a particularly slick specialty gutter with a small opening that allowed water in but kept leaves and other debris out. At the last minute, Adam bent over, his red shirt stretched tight over his shoulders as he reached for the ladder feet. Thick, nimble fingers shifted the flat rubber grips on the bottom to the pointy position. I'd never watched a contractor do this on concrete. On dirt, yes–then he'd stand on the bottom rung and force it into the soil. I didn't say anything. Before I gave it another thought, Adam bounded up the ladder.
"Hey, Adam," I said. "I want to go first and have you hold the ladder."
"Sure," he said, stopping in mid-step, climbing down as quickly as he'd gone up.
My right hand grabbed the side rail; the left one clutched my clipboard. I started climbing, moving one hand, one foot, alternating them like a child as I moved further from the ground. I'm not afraid of heights, but steep is another story. This ladder wasn't angled much. It had been fully extended to reach the roof. In the middle, the ladder felt springy, wobbly. I squeezed the rails tighter glad Adam was holding it steady.
"Besides, you can catch me if I fall," I said, looking down. He smiled. "Not that that would be a fun experience," I added, recognizing the awkwardness of a young man catching a middle-aged woman falling from the sky.
When I reached the top, I took a deep breath, then shifted my body from the ladder onto the roof. I held the ladder in place while Adam scampered up the rungs.
"I have a theory on that," Adam said, standing on the roof next to me.
"What?" I asked, the thread of our conversation forgotten. I looked around, trying to decide how to measure this roof. Three different types of material covered the sheathing: shingles on the back section where we stood; in front, a white, flat roof surrounded by parapet walls blended into a golden stucco finish; and decorative mission tiles connected the flat roof with the shingled surface.
Adam grinned wide. His cheeks disappeared behind wire-rimmed glasses. "Every morning I have a chat with God," he said. "I tell him, 'I'm going to fall off a roof someday, but it's not going to be today.'"
"Oh, Adam," I said. "I'm glad to hear that. I don't handle blood well." I searched my tool belt for a FatMax tape measure and a piece of white chalk. I extended the yellow tape ten feet, marked a chalk line on the roof, then repeated three more times until a large 10×10 white square appeared on the roof's surface. The tape snapped back into the metal container; I hooked it on my belt.
Hail damages a roof in a variety of ways. Depending on the strength of the storm, hail marks can be small, the size of a green pea, or larger, like a walnut. This damage was easy to see. I bent over and circled eight, one-inch wide indentations.
Adam's tennis-shoed feet moved about the roof with confidence. He climbed over the fragile tiles, then hopped from the flat roof to the gabled section. I cautiously maneuvered from one area to the other. As we worked, Adam told me about his two young boys, his wife, that he was twenty-nine.
The final task of the inspection was the photos, justification to company auditors for my payment. I stood on the left slope, near the ridge. An overall view centered in the Kodak's viewfinder. I pressed down on the silver button, snapping pictures of each slope, the various roofing materials, two 10×10 squares, and a close-up of the hail damage.
"I'll go down first," Adam said, "so I can hold the ladder." He took five steps down the gentle slope; less than two feet of aluminum ladder poked above the shingles. I wanted to follow and hurriedly tied the digital camera to my belt. It slipped. I tried again.
Adam barreled forward. Four steps, his pace smooth, steady. Two steps. He didn't pause when he reached the ladder, or when he turned and placed a hand on the rail, or when his right foot landed firmly on the rung. Aluminum clattered against the gutter. I looked up.
The ladder slid along the Gutter Helmet, away from Adam. Both his hands grabbed the rails, one leg on the roof, one on the ladder, momentum moving them further apart.
Run over! My head yelled, but my legs wouldn't move.
Time slowed.
You won't stop, you'll go over the edge too.
Adam's arms stretched toward the roof. He jumped. His armpits met the shingled-surface. He hung on the roof's ledge, shoulders struggling to support his body, wrestling with the roof, the gutter, grasping for a hold. He looked desperate, like a drowning man.
"Never extend a hand to someone drowning," someone once told me. He'll grab you, pull you down. You'll drown too. I looked for something to throw. A life preserver? A rope?
Adam's blue eyes widened, his face turned white. He clawed at the gutter, but the Helmet's opening was too narrow, there was nothing to grab. He looked up.
I'm too far away. I can't reach him. I have no lifeline.
I blinked. He disappeared. The ladder banged against the siding, the concrete. Did he grab something?
"Adam!" I inched closer to the edge. He lay on his back. The ladder bounced off him once, then again, shuddering. Adam shuddered too. His body limp, still.
I yelled for help.
"I'm dialing 911!" the homeowner said.
"Adam!" My voice shook when I screamed. "You told me it wouldn't be today! Hang on. Help's coming!"
A woman in the next house appeared in her backyard, running back and forth, back and forth–like a target in a shooting gallery—yelling, Charles! Charles! Charles! A man jumped the hedge, tore open Adam's shirt, placed both hands on his chest, and pumped. Sirens blared in the distance. Trembling, I backed away from the roof's edge, huddling on the gabled slope near the chimney. The bricks scraped my bare arms, but I didn't feel it.
Blood pooled on the concrete near Adam's head. His face turned blue, then gray. I looked away, trying not to vomit or pass out.
Move to a safer part of the roof, I told myself, shifting onto my knees. I crawled toward the smooth, white, flat surface. Gritty asphalt granules pressed into my hands and knees. I climbed over the parapet wall and curled into a ball, wishing I could move back time. Three seconds. That's all I'd need. "Hey Adam," I'd say, "Wait. Let me hold the ladder for you."
I lay on the roof, wondering, why Adam? He was twenty-nine. I was fifty-one. I wasn't willing to change places. But why him? Why today?
Thirty-nine minutes later, firemen extended a ladder on the grassy side of the roof. One firefighter shifted the ladder feet from the flat to the pointy ends, then stood on the first rung, pushing them into the soil. I climbed down and walked through the yard toward the driveway. My legs quivered with each step. Another fireman rinsed the concrete driveway with a garden hose. The ambulance pulled away, its siren silenced.
"There was nothing we could do," a paramedic said.
Someone took my cell phone and called my supervisor. "She can't drive. She's in shock," he said. I paced back and forth, trying to recall Adam's face before the fall, replaying those three seconds, hoping for a different outcome.
My supervisor arrived and drove me back to the Residence Inn. I sat on the bed and untied the laces on my Cougar Paws. One at a time, I kicked them off and packed them in my beat-up suitcase.
Five days later, I attended Adam's funeral. Pictures of him crowded the table: Adam with his wife, his two toddlers, his parents, his friends. He liked to hunt, to golf, to light fireworks. He was the same age as my daughter; his middle name matched my son's. In all the pictures, he was smiling.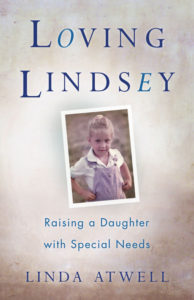 My first book, Loving Lindsey: Raising a Daughter with Special Needs will be out September 26, 2017. If you would like to learn more, click here.