Dear Everyone:

Thank you for being nice, kind, caring, and thoughtful. We loved the Valentine's you all sent. We didn't expect any of the extra stuff, but we appreciate it. We're trying not to eat all the chocolate at once. We can't believe how many Valentine's came in the mail. It was fun to open them and read them and share them with family. It made our first Valentine's Day really special. We felt loved by a lot of people we didn't even know. Thank you.

Lindsey and Nick
Valentine's Day 2013 started out like any other day for Nick and Lindsey. Wake. Eat. Shower. Work. These two special newlyweds rely on routine like airlines rely on accurate timetables. For the week leading up to this annual day of hearts and hugs and love, this couple's routine had been knocked out of whack–like a snowstorm in Chicago knocks the airline system into a tizzy.
So how did their day get so off kilter? No, not because of a snowstorm. This lovely turmoil was due to the overwhelming response to the Valentine Project.
Let's back up to February 3rd when Cara Pallone of The Statesman Journal found and read, Valentine Project For A Special Needs Couple on my blog. She noted one of the entries: kids from Bush Elementary in Salem, Oregon planned to make and mail seventeen Valentines. Cara wanted to be there during the cutting and gluing and glittering. Seven days before Nick and Lindsey's four month anniversary, Cara's story appeared on the front page of the Willamette Valley's largest newspaper. A wedding picture of the bride and groom along with ones of students from Bush Elementary School accompanied the story. Townspeople stopped Lindsey and Nick on the street and told them they were celebrities.  And the project grew.
Then KGW News sent Rod Stevens out to film the couple. He hooked my daughter up with a mic and asked Lindsey to sit next to her husband. The newlyweds snuggled on the cushy, tweed sofa chatting about their wedding, the Valentine campaign, their expectations.
"We may get one hundred or one or fifty," Lindsey said, "but it doesn't matter. We just love to get mail." When Rod asked how they planned to spend their anniversary, Lindsey said, "Nick is making me a pot roast for dinner and we may or may not get a cherry cheesecake."
When Amy Frazier of KOIN News arrived later the same day and held out the mic, my daughter shrugged, acting like being on camera was a typical day in her world. Ms. Frazier asked Nick and Lindsey what they liked best about their wedding day. Nick said he liked walking his mom down the aisle and when he first saw Lindsey in her wedding dress. "I had to wipe away tears," he said, demonstrating the motions he'd used that October afternoon. Lindsey said she liked being walked down the aisle by her dad, "toward my hunka, hunka, burning love." Then Ms. Frazier asked for clarification on the bullying I'd written about on the blog. Nick and Lindsey nodded and said, "We've been bullied all our lives."
All this attention was exciting, draining, exhilarating, and wearing for a couple whose lives depend on routine. A customer in Roth's recognized Nick as he selected a bouquet of white and purple tulips for his bride. When Lindsey walked to work, someone hollered, "Hey movie star!"
"I don't know who it was," Lindsey told me. "They were driving too fast."  One friend asked for their autographs and the couple giggled, but obliged, taking turns scribbling signatures on a scrap of paper like this happened all the time.
When it was time to pick up their Valentines at the Silverton Post Office, Cara Pallone and a photographer asked to be present–The Statesman Journal wanted to continue the story. The clerk handed the newlyweds an oversized white bin, filled to the brim with colorful envelopes, packages, manilla envelopes from several elementary and church schools, and a king-size, heart-shaped mailer from Mrs. Schaefer's third grade class at Eugene Field. Nick and Lindsey slapped a high five that made a glorious smack, practically dancing an exaggerated jig.
The couple spent the evening eating pot roast with canned potatoes and carrots and opening Valentine's sprinkled with confetti or sparkles or pieces of chocolate. They opened handmade hearts, Hello Kitty's with Be Mine written across the bottom. Some cards had music. Some included pop-up greetings. They opened Valentine after Valentine, reading the sweet words and well wishes out loud to one another. When all the envelopes and packages lay opened, it didn't matter that glitter covered their kitchen counter, the kitchen floor, the carpet in the living room, and their clothes. Lindsey and Nick tilted their heads in disbelief, grinning, impressed that family, friends, kids and adults–most from people they didn't even know–joined together to support this project and show them some love.
Amanda wrote, "Your story is so inspiring to me. May your day be filled with love and chocolate." Her message included a smiley face at the end that made Lindsey and Nick grin.
"Happy Valentine's Day to you both. You look so perfect together. Be happy always. Big Hug from Joan in Dublin , Ireland.
The couple nodded, giggled.
"Do you know where Ireland is," I asked.
"A long ways away," my daughter answered like she was answering a quiz in high school.
"Happy Valentine's Day Nick and Lindsey, May you both share a lifetime of love and happiness. Your Story of Love has touched many people's hearts, mine included. I wish you much love and happiness," wrote Luanne Klassen from Abbotsford, BC.
After their television debut, Lindsey's Aunt Kandi suggested they'd make great candidates for the Ellen Degeneres Show. "I don't care much for Ellen," Lindsey said, shaking her head.
"Do you even know who Ellen is?" I asked, trying to convince my daughter that Ellen was nice and kind and funny–just like her.
"I don't know Ellen," she said, shaking her head again.
Two days later Lindsey brought home a large plastic bin that could slide under their bed. "To store all the Valentine's, Mom," she explained. "We want to keep them forever."
"Forever?" I asked, not sure she understood how long that would be.
"Yup," she said, her blue eyes sparkled like the glitter sprinkled throughout their house. Nick nodded in agreement. "Forever," they said in unison, giggling, holding an accordion card decorated with chickens and puppies and kittens.
---
Lindsey tried to write "Thank You's" to everyone who sent more than a card. I'd told her we'd do an on-line "Thank you," but my stubborn girl mailed these out before I could stop her:
Twelve came back in the mail. I explained that you can't just put the city and state and expect the thank you to get to the right person. But it's important to Lindsey that everyone knows how much she and Nick appreciated all the Valentines, the stories, and the good wishes.
---
---
A special thanks and shout out to Cara Pallone at The Statesman Journal, Rod Stevens and Collette Weiland at KGW, and Amy Frazier at KOIN for putting together such delightful stories on this project. We appreciated all of them.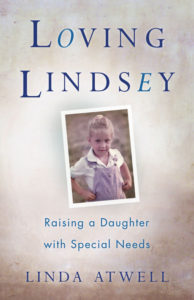 My first book, Loving Lindsey: Raising a Daughter with Special Needs will be out September 26, 2017. If you would like to learn more, click here.